Create your Dream Backyard with a Custom Patio
in Aston, PA
Creating the patio of your dreams provides a unique stone look and style that complements your house and creates an atmosphere your guests will enjoy and make you the hostess with the mostess!
Get My Free Quote
Flagstone Patios
in Aston, PA
Flagstone Patios shows the beauty and quality of the materials used to build by utilizing natural stones.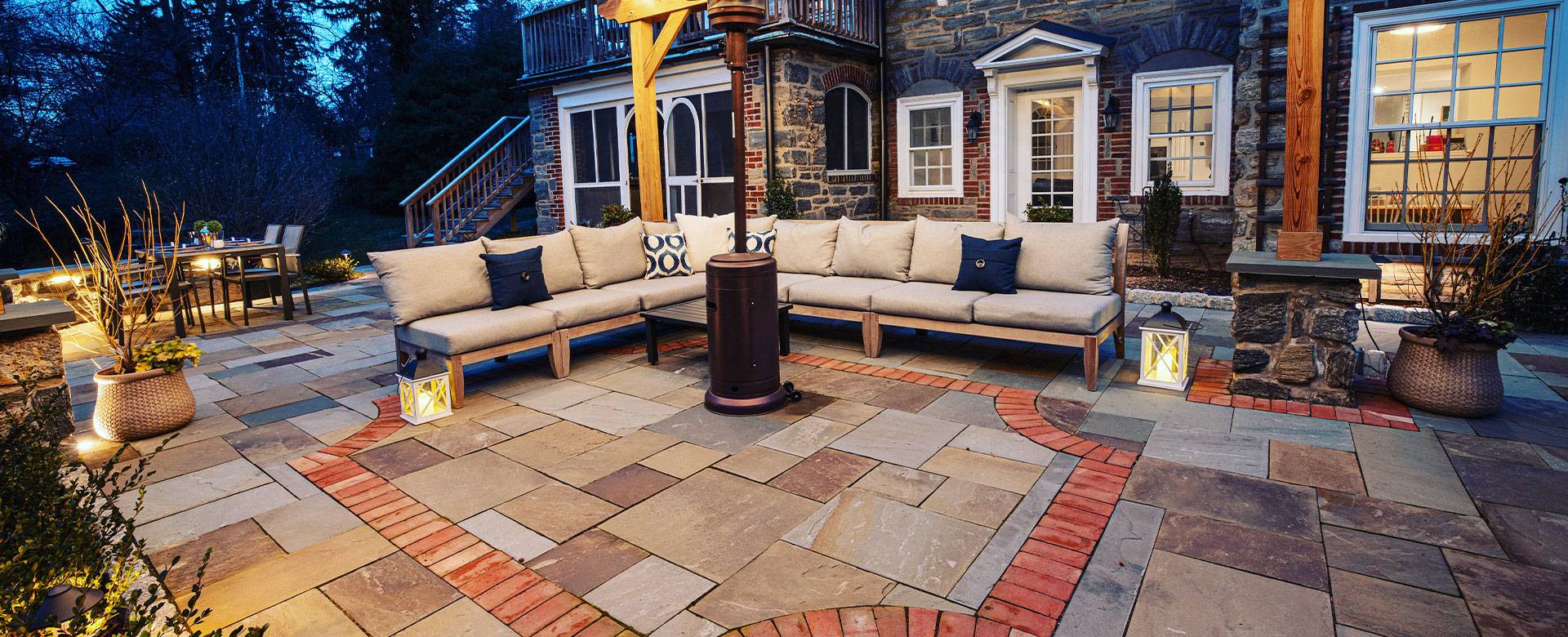 Piazza Property Pros' flagstone patios are especially appealing because they feature narrow joints that allow water to percolate rather than simply run off. A benefit of flagstone surface patios is the use of their eye-catching natural look thanks to their (dare I say natural) earthy colors like brown, red, green, and blue. The most popular forms of flagstone used for outdoor structures are sandstone, limestone, and slate.

Piazza Property Pros loves utilizing these materials because they are particularly long-lasting material which decreases the need for future maintenance while also providing a rich color and is naturally slip-resistant due to the texture of the stones.

Our designers can utilize flagstone material in their designs to help create your dream outdoor living space! Check out our gallery page to see example patios in Glen Mills, Media, Newtown Square, PA and beyond!
Contact Our Team
Paver Patios
in Aston, PA
Paver patios add a breathtaking look and elegance to your backyard while enduring long-term heavy use. A benefit of paver patios has been an innate quality to envision them as a timeless charm.

Our landscape designers will tell you that paver patios are much more giving because they allow for much more complicated designs to be realized as the paver parts are individually mounted.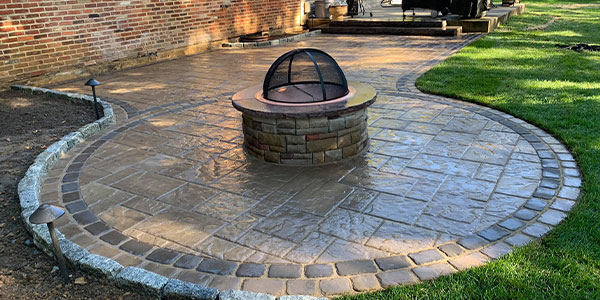 Another reason to consider a paver patio is to consider the amount of traffic your patio will have to endure. If your patio will be a high-traffic location, pavers are highly recommended. You will gain long-term value with a paver patio built by our experienced local patio builders because you will not have to seal or stain it over time. If there is ever an issue, paving stones are often easier to repair since they can be replaced individually if necessary. If you have additional questions about our paver patios or would like to get started, please feel free to reach out to a member of our team today!
Ask an Expert
Stamped Concrete
in Aston, PA
Stamped concrete allows you to personalize the pattern, texture, and feel of your patio. Thus, stamped concrete is a good choice if you want a wide range of designs, paint choices, and other customization for a more affordable price. Our crews take extra care and time to ensure that the foundation for your stamped concrete patio is well-built before pouring the concrete. Because the end result utilizes concrete, this is a good option for individuals on a budget that want lasting and sturdy patio materials. Our gallery has many examples of our work from Newtown Square to Radnor, PA. Contact us today and we can help you plan, design, and create the backyard patio you have always dreamed of!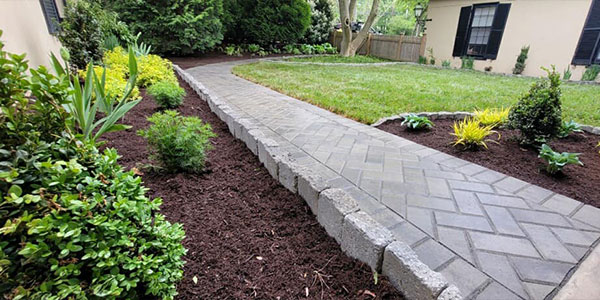 Get an Onsite Consult
Covered Patios
in Aston, PA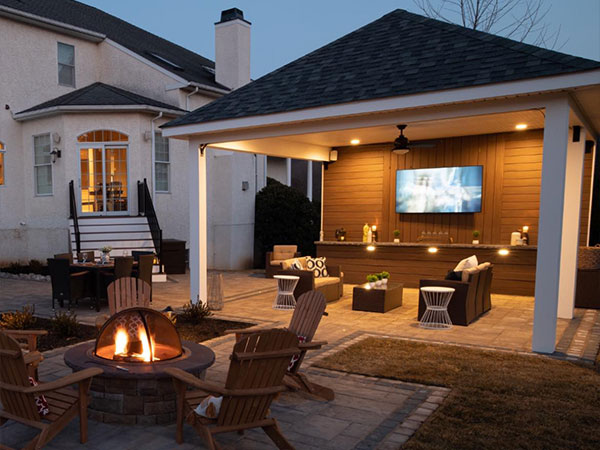 Is your home exposed to direct sunlight for the majority of the day? With a covered patio from us, you can explore the possibilities. We can help you create your patio under a gazebo, porch, pergola, or deck to protect yourself from the elements while you enjoy sitting outside in a relaxing environment.
A covered patio helps you to enjoy the outdoors while still providing sun protection. A covered patio can be the ideal setting for a picnic lunch or a family get-together. The roof of your patio cover could be open or solid. The patio would be protected from both direct sunlight and precipitation whether it is built under a porch or a deck with a drainage system. Building the patio under an outdoor pergola is a reasonable idea if you want an open roof that mainly blocks the heat.
No matter what your needs are, the team at Piazza in Aston, PA is here to help! Contact us today to get started!
Get My Free Quote
Patio Seating Walls & Firepits
in Aston, PA
While enjoying your firepit and patio, we can help you create natural boundaries and a place to sit by creating hardscape or patio seating walls on your patio or around your firepit.
Seating walls may be added to your patio as an afterthought. They serve as a natural border for your patio and can also serve as a retaining wall if the patio is situated on an incline. Seating walls around the patio are also a nice place to sit, particularly if you have a firepit or an entertainment system. They're also great for hosting parties because they have extra seating.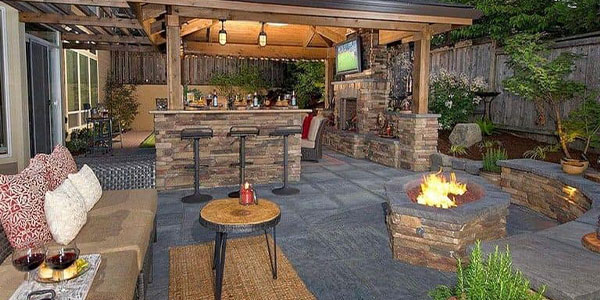 Add Seats to your Patio
Brick Patio
in Aston, PA
Brick patios are a rare find anymore. However, brick accents come in a range of colors and finishes, and they give your backyard a unique look which is why we adore working with brick in our designs! One of our favorite uses for them is as accents, and patios are the ideal location for this. They can be around your BBQ grill, fire pit, water feature, and more! Brick accents are available in a wide range of colors, forms, and textures. Our design team will determine the appropriate amount and color of brick to contrast the materials in your backyard while also complementing the theme and exterior features of your house. Contact us today to learn more about what we have to offer!
Get an Onsite Consult
Below is a full list of

Areas We Service
Aston, PA

Berwyn, PA

Broomall, PA

Exton, PA

Glen Mills, PA

Havertown, PA

Malvern, PA

Media, PA

Newtown Square, PA

Radnor, PA

Villanova, PA

West Chester, PA