Landscaping Services: Understanding the difference between Hardscape and Softscape
Clients often ask us, "What is the difference between hardscaping and softscaping?" Since we are dedicated to client education and customer satisfaction in our roots, we've created this section of our website to answer that question in as simple terms as possible.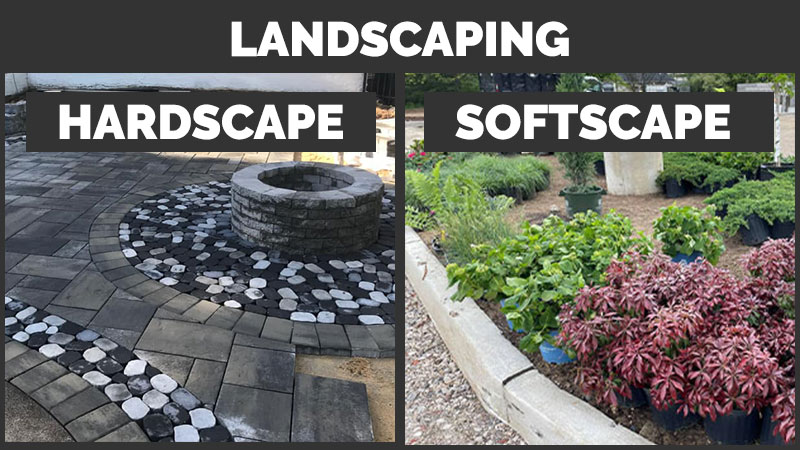 Hardscaping uses materials that are dead (like rocks, stone, brick, slate, etc.). Softscaping uses materials that are alive (or where once alive) such as grass, plants, bushes, trees, and mulch. Hardscaping services include the assembly and installation of a brand new patio. Softscaping services include designing a variety of vegetation, plants, bushes, etc. around the patio to accent the patio and strategically place the vegetation to help create traffic patterns around the patio.

Examples of hardscape include pavers for patios, retaining walls, pavers for paths, outdoor kitchens, water fountains, ponds, decks, gazebos, pavilions and driveways. These hardscape structures can are solid and unchanging. Examples of softscape include any soft horticultural (meaning living and growing) pieces of landscape such as flowers, trees, shrubs, grass, plants, and miscellaneous ground covers.
Combined, delivering hardscaping and softscaping services requires a fully equipped and experienced landscaping company with everything they need to satisfy any client request. If you want to step out of your back door, onto a deck, walk down steps to a lower patio with a slate walkway that bypasses your hot tub on the way to your new swimming pool, then you need a team that can design, prepare, and manage that entire project. That is where we come in. Piazza Property Pros can do it all - and we have done it all.

We have the experience to get it done right the first time with a skilled workforce that has experience designing, assembling, and installing outdoor living projects both big and small. Don't forget - as projects grow in size and complexity, township ordinances/approval processes are more and more likely to become a part of the equation. When that day comes, you are going to want someone like Pizza Property Pros to have your back. So don't delay, contact us today!
Get My Free Quote
Aston, PA

Landscaping Services